Welcome!
The Mid-North Food Pantry's (MNFP's) mission is to enhance the health of our mid-north neighborhoods by providing supplemental food and basic necessities for our neighbors in need.
Volunteers
We have lots of shifts available and no special experience is necessary. Please click the SignUp button below to find open shifts.
Free HIV Testing Offered in April
Brothers United, Inc. (http://brothersunitedinc.org/) will be offering free and confidential HIV testing at the Mid-North Food Pantry on Wednesday and Friday mornings from 10:00 AM to 12:00 PM (noon) for the remainder of April 2017. The test is performed using a mouth swab and results are available onsite in about 15 minutes.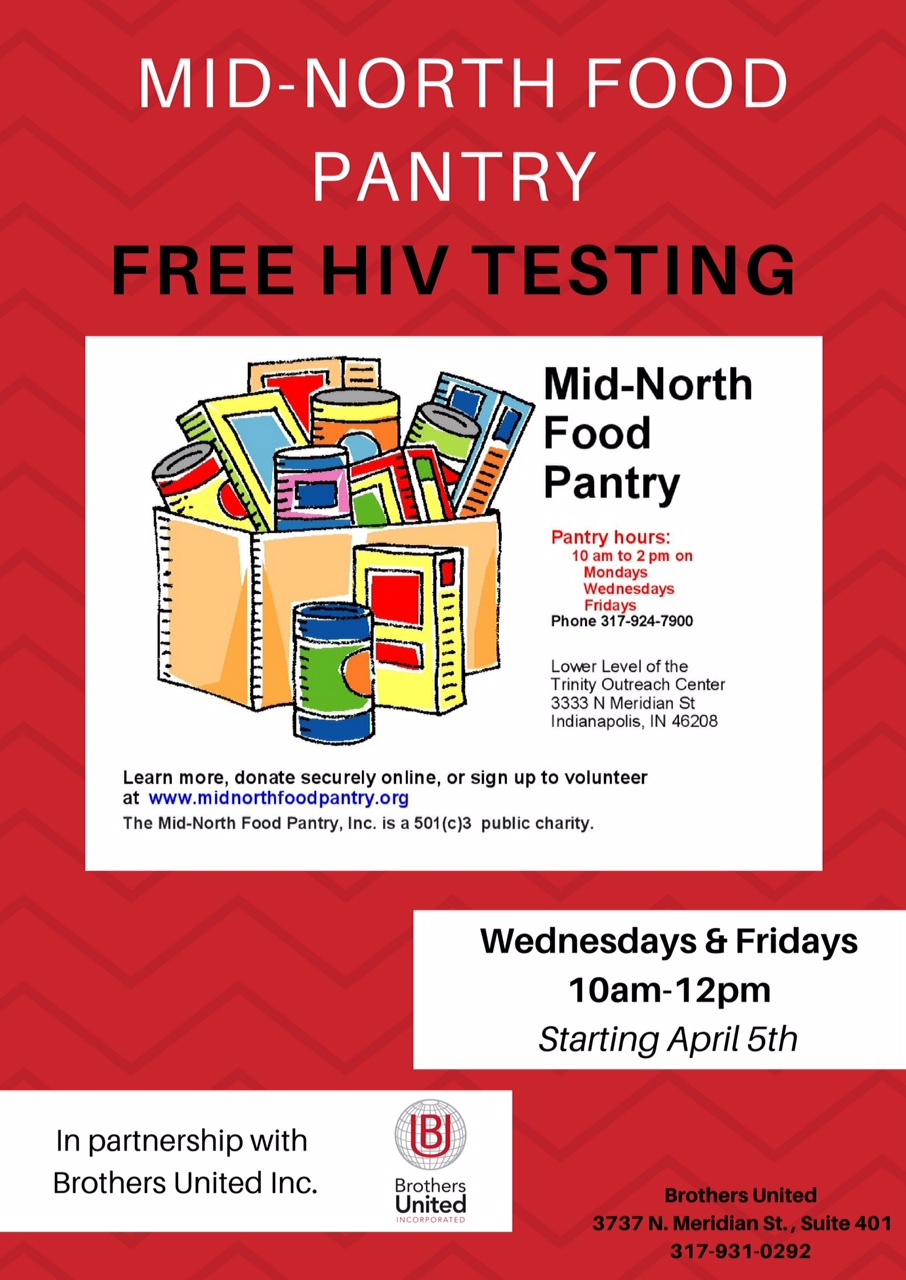 Individuals Served in 2016
Eligibility
We have the following eligibility requirements:
Marion County resident.  Proof of residence is required such as a state-issued identification, piece of mail with name and address, or lease agreement. Our service targets neighbors living in the 46205 and 46208 ZIP codes, but we will also serve neighbors in the 46201, 46202, 46203, and 46204 ZIP codes.
Low to no income.  No proof of income is required.
One service per family per month.
Current Needs
While donations of food and personal hygiene items are always welcome, money goes further because we are able to purchase large quantities of food at discounted prices.
Online donations are accepted securely through Bloomerang. Please click the Donate button on the right side of any page in our site.
Checks can be mailed to:
Mid-North Food Pantry
3333 N. Meridian St.
Indianapolis, IN 46208
The items of the greatest need for our customers are:
Bags that our customers can use to take their chosen food items home
Basic manual can openers to give to our customers to take home
Peanut butter
Tuna or other canned meats
Canned fruit or applesauce
Pasta items
We could also use the following items to keep the pantry clean and organized:
Gallon size zip-close plastic bags
Disinfectant hand wipes
Cleaning rags
Facial tissues
Surface cleaning spray
Name tags
The Hunger Challenge
Are you able to commit items, money, or time to the Mid-North Food Pantry?  Please fill out our The Hunger Challenge form.